We left off last time with the story of a funny Halloween prank played on old-time rancher Abednego John. (If you missed it, you can find that tale in Part 1, here!)
The original Fairview School, as you'll remember, sat at the mouth of Fay-Luther canyon. But roughly twenty years later, a new and improved, second Fairview school was built about a mile to the south. Was this new spot just a more convenient site? Or were there other reasons for starting over?
That question's a mystery. But we do know that well-known local builder John Cress was chosen as the contractor, and the new schoolhouse quickly sprouted at the corner of today's Fairview and Fredericksburg Roads in the summer of 1893 . When school began again that fall, the teacher at the new one-room Fairview school was a Miss Lloyd. Just imagine how she must have felt, moving into the freshly-built quarters!
The following spring, Miss Lloyd had a grand idea to beautify the rather barren school grounds. In honor of Arbor Day, 1894 (the last Friday in April), Miss Lloyd put her students to work planting trees around their new schoolhouse. Then each student took on the responsibility of watering the tree they had planted.
"We hope the trees will live and flourish," enthused the Genoa Weekly Courier on April 27, 1894, "and that the teacher and pupils will be able to enjoy their shade for many years." That happy wish that would come true — and not just for Miss Lloyd's helpful students, but for generations of Carson Valley residents to come. Many of those early saplings still adorn the site today!
A further upgrade for the new school arrived in January, 1901, when Allen & Dake bored a new well. The school's fortuitous location in the bottomlands made this a relatively easy task; they only had to go 40 feet deep. The new well probably helped greatly with keeping the trees watered. And how many thirsty students must have paused to get a drink from the school's handy new "pump well"?!
The number of pupils attending Fairview School seems to have stayed fairly constant, at least for a time: 29 students were in attendance in 1881, and 25 occupied its desks in 1901. But Fairview was said to have been one of the roughest posts for teachers. "The Dresslers and the Bohlmans and the Ruhenstroths were all tough boys," remembered one long-time Valley resident. "They would put skunks in the girls' billy [outhouse]. So the teacher made the boys use the girls' outhouse!"
Perhaps those rowdy kids help explain why Fairview teachers seemed to come and go with great rapidity. Mr. Spencer, the school's first educator, was replaced by Mrs. Layne in 1876. By 1883 Katie Taylor had taken over, only to be replaced by Miss Belle Leslie in 1888 and Mrs. Mary Field in 1889. None other than Ellen Virgin (daughter of the Genoa judge) was engaged to teach at Fairview for the term beginning fall 1890. The tree-planting Miss Lloyd presided stuck it out for a few terms from 1894 to 1897 before returning to her home in Empire. 1898 featured a Miss Lamb from Washoe County as the teacher, while Nellie M. Cavanaugh was in charge for the 1899 and 1900 terms, before departing to take the post of principal at the Oak Grove School in Santa Clara County, California. In 1904 the Fairview School District secured its next teacher, J. Novacovich, from Reno. And that's not an exhaustive list; there were likely a few other teachers as well!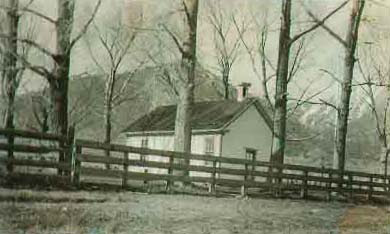 But it's hard to fight progress. As with so many small school districts, economics eventually forced the tiny Fairview School to close. Fairview's School District was merged with Minden's School District in the spring of 1929. The old Fairview schoolhouse was auctioned off that same year, with Charles Mapes becoming the successful bidder. About 1939 the old building was moved up the road to the Crosby Ranch (later Ahern Ranch), where some say it was converted to a bunkhouse and others say it became an office. Today all traces of the old school seem to be gone, however; local researchers say they have tried to locate it, without success.
Those Arbor Day trees planted by the students and their thoughtful teacher back in April, 1894? Some of those are now giants!  These tenacious survivors have continued to offer graceful shade and shelter for 125 years — and still counting. Miss Lloyd must be smiling at her handiwork indeed.
_______________________________________
Karen Dustman is a published author, freelance journalist, historian, and story-sleuth. For more about Karen, her books and other fun stuff she's written, check out her author website: www.KarenDustman.com.
________________________________________