Some American soldiers in Vietnam never came home. Some came home, but were never the same.
Rich Duffy joined the U.S. Marine Corps in 1964 at the age of 18, and was sent to the front as a Forward Observer – one of the most traumatizing and dangerous posts imaginable. Then while deep in the jungles, he received a "Dear John" letter from the young wife he'd left behind.
"The brother I knew, the one who left, didn't return," says Rich's younger brother, Dan. "In a way, Rich's first disappearance happened sometime during his one-year tour of duty. Then in 1969, after Rich came home, he disappeared a second time, this time out of my life completely. His girlfriend mailed my mother a cryptic postcard saying, 'Rich and I went to the Rio Grande, took LSD, and when I awoke he was gone.' We never heard from him again."
It's been fifty years, now, since Rich disappeared.
A Quick Introduction:
Brother, Brother is Dan's memoir about his family and his quest to find out what happened to his missing older brother. With an intriguing blend of fact and fiction, Dan tells the story as if his brother is sitting right beside him as they recreate Rich's fateful journey to the Rio Grande in a candy apple red '66 GTO convertible.
Dan kindly shared his successful memoir writing journey with us, plus some helpful tips for how he took his book from inspiration to reality.
Q&A With Dan Duffy:
 Q: What made you decide to write this book? And how long did it take, from start to finish?
A:  Every December since my older brother Rich's mysterious disappearance in 1970, I've been haunted by images of his disappearance beside the Rio Grande River. Could he still be living somewhere in the cash economy, leaving no paper trail for me to follow? Or did he drown without a trace in the Rio Grande there in Corrales, New Mexico?
Over the years I've tried every avenue I could think of to try to solve the mystery. In the mid-'70s, I drafted a letter describing Rich and the circumstances of his disappearance. This was the pre-internet age, so I contacted a mailing list company and sent letters to over 100 men who shared his name. No luck. I used his social security number and military service number to inquire about any recent activity. No luck. I had the Veteran's Administration forward a letter to his last known address. No luck. I conducted driver's license searches of his name in four Western states. No luck.
Finally, after I retired from my administrative career in higher education, I decided to put pencil to paper in the hopes of articulating and understanding Rich's experience in Vietnam, his conversion to a "Jesus freak," and his decision to move to the Southwest, where he disappeared under such mysterious circumstances. This book was the result.
All told, it took me three-and-a-half years to complete the book. I started in February, 2013, when I joined the "Open Mic" program at the Gloucester (Massachusetts) Writers Center, and began sharing some memories I'd written about growing up with my brother. I received good feedback, and set myself a goal of presenting new writing each month. Concurrently, I joined a writers' group of six other writers. We met twice a month to read, review and critique each other's writing. Their honest feedback was extremely helpful. It was also an excellent method to keep me and my fellow writers focused on our writing and editing. I finally published the book independently on Amazon on May 1, 2016 — my brother's 69th birthday.
Q:  What was the hardest thing for you about writing this book? And how did you overcome that hurdle?  
A:  In 1959, my mother left my father, and moved Rich, me, and our three other siblings to the New Jersey Shore. As a single parent, she struggled to provide for us by waitressing, which often required her to work evenings and weekends.
For me, the hardest aspect of writing about that was recognizing that we kids had lived in such an atmosphere of silence: nobody dared to ask; nobody dared to tell. At the time, I didn't know any other kids who lived in a broken home. So we never talked about things like our estranged dad, our absentee mom, kids having to supervise kids, teenagers hanging out at the house each night, or Mom dating a man we called Bill.
It was somewhat scary, in a way, to discover how I'd really felt about being adrift, in the absence of adult supervision. But writing about my early family circumstances also made me realize that I had broken free of any real or imagined "cycle of poverty" that my mother's divorce may have fostered. I've been the only one from my family who ever attended and graduated from college. I've been fortunate to have continued my education, obtaining A.A., B.A., M.Ed, and Ed.D. degrees. For me, education was a pathway to my future success, both personally and professionally.
As Barack Obama has said, "Every man is trying to live up to his father's expectations or make up for their father's mistakes." Obviously, I fell into the latter category.
Q:  What (and maybe who) helped keep you going? Did you feel like your brother was there speaking in your ear, encouraging you to tell his story?
A:  I am grateful to many individuals who engaged me along my writing journey. Some urged me on from ahead, and others exhorted me from behind, but most – my fellow writers — accompanied me by my side. That's a metaphor, but even in the physical world it's often "journeying together" that provides the encouragement people need to explore new horizons and traverse unfamiliar territory in the first place.
My wife, Helene, and six members of my writers' group read my early drafts, provided constructive feedback and advice, and encouraged me to continue writing.
I also truly believe that my brother Rich was beside me while I typed my final draft, guiding my hands and providing encouragement. I might have even "channeled" him from time to time as I thought about several of his nightmarish Vietnam War experiences that left him with PTSD.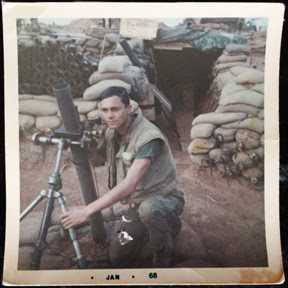 Q:  You've used a fascinating blend of both fact and fiction, weaving in your own recollections with a fictionalized account of your brother's journey. Did the process of writing help you come to peace with your brother's disappearance, imagining what he went through and experienced?  
A:  Although my brother was the focus of my story, it's really about the impact of his life on mine. So my memoir includes fragments of distant memories of my older brother's life and our shared eighteen years.
I yearned to better understand Rich's war experiences, which left him with a "nervous condition." Today, it's diagnosed as PTSD (Post Traumatic Stress Disorder.) So, I've included my own mental images of his Vietnam and post-Vietnam experiences. I've also used my imagination in reconstructing his 1970 cross-country trip to New Mexico. The "journey" with my brother in the book is equal parts myth and reality, as my first wife and I took our own cross-country drive in the Summer of '72.
I smile when I reread some segments of the book describing Rich and me playing together. Those memories continue to bring me joy. But there are other portions of the story I've written that I'm unable to read aloud at book readings. The memories still seem so fresh and painful to remember.
Writing my story did bring me closer to Rich. Describing our shared cross-country trip – fictional though it was — added to the sense that he was alive and still with me. But after I published the book, I've learned even more about my brother's last year of life, before he disappeared. So my own search is continuing. I still have several avenues of investigation I want to pursue to try to discover what happened to him.
The closest I could say I've come to "closure" was when I visited Corrales, New Mexico several autumns ago, and walked along the area of the river known as North Beach, the location where he had disappeared. As I stood in the wilderness beside the mighty Rio Grande River, I was overcome with a feeling of serenity and thought, "This would be a magnificent place to die." Maybe Rich was trying to convey something to me from beyond the known.
Q:  How did you go about publishing your book? For many authors, this is the hardest part.  
A:  I'm the kind of learner who loves to examine resources. I read books about writing, and also visited several indie publishing websites to learn from others who had preceded me on my writing and publishing journey. I've included a list of publishing resources I've found helpful, below.
My learning style also emphasizes "learning by doing," so Amazon's KDP Self-Publishing Platform (
www.amazonkdp.com) was a good fit for me, and that's what I used to get my book in print. For indie writers, the best part about Amazon KDP is that it's free. Aside from maybe the cost of a cover design, there's no cost to publish your book (they also have a free cover-creation tool). The KDP platform also offers an Indie Publishing Community where you can ask questions and receive advice from others who have already published their books.
For the writing process itself, I used the Scrivener software. This allowed me to do things like reorder chapters by "dragging and dropping" them, a function that Word doesn't offer.
Q:  What advice would you give to other memoir writers, based on what you've learned along the way? 
A:  I'd say, simply begin writing. Don't necessarily think about beginning to write a 300-page memoir. Focus on memorable "scenes of your life" and write about what happened, and most importantly, articulate how you felt about the experience.  Author Anne Lamott's advice is to give yourself permission to write a "shitty first draft." By that, she means, get your thoughts and experiences down on paper without worrying about correct spelling or grammar at first. You'll have plenty of time to edit your writing after you have something written.
I'd also advise beginning writers to create a time and place for your writing. Bestselling author Andres DuBus III suggests getting up an hour earlier than you normally would or staying up an hour later to concentrate on your writing. "Your book doesn't care how tired you are," he said at the Newbury Writer's Festival.
Join other writers in a writing group, even if it's just two of you who meet every other week to read each other's writing, give each other honest critiques, and hold each other accountable for meeting your next meeting's deadline for new material.
_____________
Dan Duffy kindly shared these resources he's found helpful:
The Craft of Writing:
Publishing Resources for Indie Writers:
Book Publishing for Beginners, Paul G. Brodie, www.BrodieEDU.com
Successful Self-Publishing, Joanna Penn, www.TheCreativePenn.com
Write, Publish, Promote, Deborah Martin
Self-Publish Your Book, Jessica Bell
29 Truths from the Trenches of Self-Publishing, Author Basics (Steve Windsor and Lise Cartwright
______________