If you ever wondered if miracles still happen, well, here's proof: Three wonderful artifacts from the very earliest days of Alpine County recently made their way home again, some 150 years later!

       William A. Johnson and Bridget Clark made history in 1864 by becoming the very first couple to marry in the fresh, raw mining boomtown of Silver Mountain City. They tied the knot on a Sunday – September 25th to be exact – with the assistance of a Justice of the Peace named Crowell. The groom was a Southerner, born in 1833 in Elbert, Georgia. The bride was from Ireland and ten years his junior, born in 1843. 
       Almost exactly 156 years after the wedding, we are finally able to see what this pioneering couple actually looked like – thanks to a kind and generous donation to the Alpine County Historical Society by the couple's great-great-granddaughter, Linda Meadows!
   And wonderful as these rare photos are, they're not the only treasures that just arrived; William and Bridget's original 1864 marriage certificate was also donated. It's been carefully framed with glass on both sides, keeping both sides of the old document legible.
        So, who were these early Silver Mountain-ites? Well, William Johnson worked as a road superintendent, helping construct and maintain the toll roads connecting Markleeville, Mt. Bullion, and Silver Mountain. It was Johnson who in 1863 negotiated with a local Washoe chief, to allow the company to cut its roadway near a cave just outside Markleeville. (A cave that's still there, by the way!)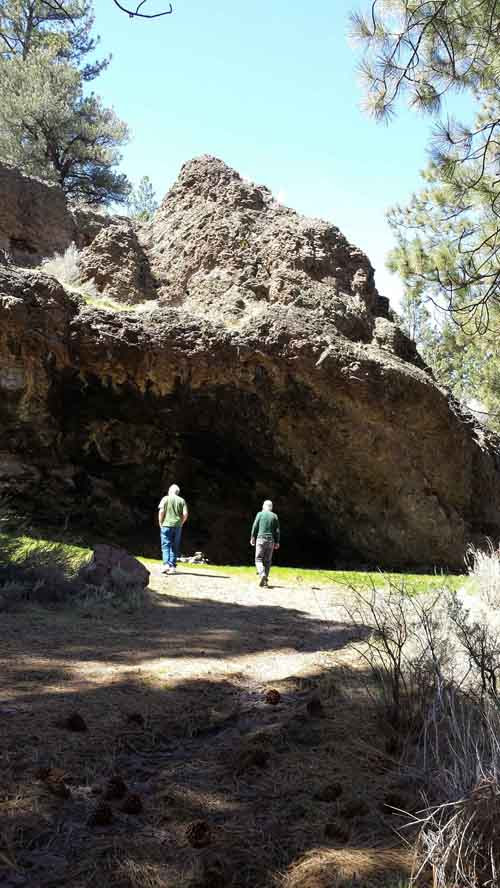 But Johnson, it seems, wasn't always a diplomat. In 1868, he was involved in a "cutting affray" over a game of cards – stabbing a fellow gambler named Glascock not once but six times. The local Chronicle took Johnson's side, however, noting that he "had been outrageously abused and roughly handled before having recourse to the knife."
 
       William and Bridget's first daughter (Gertrude) was born almost exactly a year after their marriage – September 10, 1865. The family soon left Silver Mountain and moved near Markleeville, where second daughter (Georgia Josephine) was born in 1870 at "Johnson's Bridge." Son William Newell Johnson followed in 1875.
 
       The Johnsons took over the management of the Barnes Hotel in the fall of 1871, renaming it the Markleeville Hotel and outfitting it with new furniture. William Johnson continued to work as a road superintendent, and also served as the local tax collector. By 1877 he also was operating a livery and feed stable on Main Street.
       On the home front, however, two tragedies struck the Johnson family. Daughter Gertrude died at the age of seven in May, 1873, and son William Newell passed away as an infant in 1877 of "croup." Likely reflecting their mother's Catholic faith, both children were buried at St. Teresa's cemetery in Carson City.
 
       Husband William Johnson, too, became ill in 1876. He recovered, however, and in the fall of 1878, William and Bridget joined the throng of Alpiners heading for fresh opportunities at Bodie. William even arranged to move their entire building (known as the Uncapher House) from just outside Markleeville to the new mining boomtown. William was soon listed as proprietor of the new "Bodie House" at the corner of Main, Mills and Green Streets in Bodie. But he wouldn't live there for long.
 
        During the winter of 1879-80 William left Bodie and journeyed to San Francisco to seek medical treatment, reportedly contemplating a trip to the Sandwich Islands (Hawaii) and Australia to recover his health. But it wasn't to be. William A. Johnson died at Bodie in early 1882, at about 49 years of age.
 
        Bridget remarried the following year, wedding Oluf H. Hill (born in Norway in 1846) on September 11, 1883, at the Arlington Hotel in Carson City, in a Catholic ceremony conducted by Father John M. Cassin. Bridget and her second husband may have had one son together: Oliver Leslie, born in Bodie May 21, 1885 (family lore, however, suggests Oliver may actually have been adopted). Oliver, too, died at a young age, passing away in Bishop at the age of two in 1888.
       Oluf Hill took over management of the "Bodie House" Hotel, which fronted on Green Street just north of Miner's Union Hall – one of the largest frame buildings in Bodie. A story passed down in the family suggests that Bridget may have operated several "women's hotels" there as well (possibly brothels). A visitor is said to have once commented that Bridget's hotel contained about twenty of the most beautiful girls he had ever seen.
 
        The wooden Bodie House Hotel burned in a tragic fire in 1888. The loss was estimated at $10,000, and the hotel had been only "lightly insured." Oluf Hill and Bridget moved on to Bishop, and Oluf died there just after Christmas, 1909 at the age of 63. His obituary lauded him as a "man of sterling integrity and worth." Bridget herself lived to be 80 years old, passing away in January, 1924 in Salt Lake City.
 
       Bridget kept her most precious possessions – including her 1864 marriage certificate– in a box she called her "little box of baubles and bits," and this little box went with her everywhere.  It survived Bridget's move to Bodie and the burning of the Bodie House Hotel. After Bridget's death, the box was handed down to her only surviving child, Georgia Josephine Dooley (who herself led a fascinating life, becoming the first woman to practice law in Nevada).
 
       Daughter Georgia Josephine kept the Little Box for the next 30 years, taking it with her as she moved from Nevada to Utah, and eventually on to California. Little by little, she added jewelry and important documents to the box, and eventually it passed to her daughter, Georgia Aileen Nibley.
        "I spent many hours playing canasta with my grandmother, Georgia Aileen, and hearing wonderful stories," recalls descendant Linda Meadows. "She would let me hold or try on the jewelry, and there were photos and stock certificates in the Little Box. I knew there was a special paper there that was very old. I think my grannies would be amazed at the distance this little bit of paper has traveled." 
 
        We are so grateful that through Linda Meadows' generous donation, the photos of Bridget and William A. Johnson and their 1864 wedding certificate have now found their way back again to Alpine County, more than a century and a half later!