Call it the Virginia City version of Cain and Abel. Feuding brothers John L. and Samuel Black owned a prominent building at the corner of "C" Street and Taylor in Virginia City's early days. But there was little about the building's management they seemed to agree on.
Born in Alabama, the brothers had first arrived in then-Nevada Territory about 1859. Their commercial building was erected the following year by Mathias David Howell. With brick for the upper stories and a substantial rock-and-mortar basement, it was touted as the first "fireproof" building west of the Mississippi. By September 1860, the brothers were ordering up an astonishing 255,333 pounds of supplies ("mostly groceries") from Marysville for their store.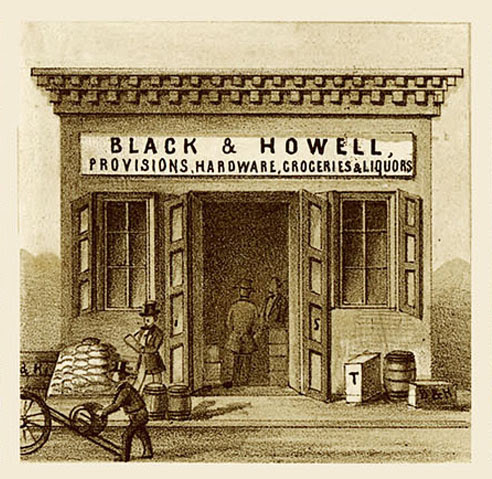 The 1864-65 Mercantile Guide raved about the Blacks' "magnificent brick building" — "unsurpassed on the Pacific Coast," they said, for its "substantial and perfect finish."
By the summer of 1872, tenants of the building included "Burrall's Pioneer Book Store." New Yorker Will Burrall had moved his business here in January, 1870, from its previous location at "C" and Union.
As you can see in the drawing above, by 1872 Black & Howell's had gotten taller. It now boasted two stories above "C" Street, not just one.
On the top floor was noted photographer James Kimball Sutterley, who'd just returned to Virginia City in May, 1872 after a stint in Napa. Sutterley had purchased the gallery formerly owned by Hedger & Noe.
Although ostensibly "fireproof," the brick building had a near-miss with disaster in September, 1872, when a lighted kerosene lamp exploded inside Sutterley's gallery. Thanks to quick action by Sutterley himself, who hurled the broken lamp into the street, and by Mrs. Sutterley, who subdued the flames with a blanket, a conflagration was averted – THAT time, at least, though the balcony did catch fire.
But in 1875, the "fireproof" Black & Howell building succumbed to the tragic Virginia City fire. Just their bad luck: the Black brothers' structure was the last building destroyed on the east side of the street. Its tenants at the time included the Virginia Evening Chronicle.
The sturdy brick building was rebuilt after the fire. But what apparently couldn't be repaired was the increasingly rocky relationship between the brothers. When it came to temperament, they were different as night and day. Samuel was known as a kindly man, with "very tender sympathies." John, two years younger, was said to be "of rather sterner mold." But both had a good reputation in the community.
By 1882, the two brothers were no longer speaking to each other except on business matters, and then "generally in anger," as the Reno Gazette would later put it. Everyone in town was aware of the pair's constant bickering.
For the most part, the brothers simply avoided each other. But shortly after noon on May 4, 1888, two pistol shots pierced the air. 70-year-old Samuel's dying body was discovered in his metal-working shop in the basement of the building. He'd not only suffered a bullet wound to the chest but the front portion of his skull had also been crushed in. His brother, John, 68, promptly walked up to the County jail and surrendered himself to the sheriff.
Samuel had already lost his wife, and he had no children. Brother John was behind bars. So there was no one to mourn when Samuel was laid to rest in the County section of Silver Terrace Cemetery.
There was no question that John L. Black had killed his older brother. But according to John, it was done in self-defense. Samuel had threatened his life repeatedly over the years, John said, lunging at him with heavy tools or iron bars. Until now, he'd always been able to escape. But on that particular day, John claimed, he had been cornered. He'd had no choice.
So, was it really murder? A manslaughter verdict was widely expected, at least in Virginia City's "court of public opinion."
But the first jury convened to hear the case couldn't decide. In August, 1888, the jurors came back impossibly split: five voted for manslaughter; one for second-degree murder; and six to acquit John entirely. A second trial was held four weeks later. But it, too, wound up in a hung jury, this time even more in John's favor: five for manslaughter, and seven to acquit. Quipped the Reno Gazette Journal in disgust: "Virginia City juries evidently cannot agree in any case."
A change of venue was granted the following month, and the case was set for a third trial, this time in Carson City. Meanwhile, John Black remained locked up at the Virginia City jail.
But a Greater Power than a jury would ultimately decide his fate. John L. Black died while still behind bars on January 16, 1889, of "congestion of the bowels." He left behind a wife and four sons.
John, too, was buried at Silver Terrace Cemetery in Virginia City — in the "Silver Terrace" section, not beside his brother.
We'll never really know for sure what really happened; Samuel was in no condition to share his side of the story. But history does have a way of repeating itself. And John Black had had at least one nasty previous scrape.
Back in 1869, John had gotten into a dispute with a mill-owner from Humboldt County over "some business matter" – as luck would have it, down in the very same basement where Samuel was later killed. During the altercation, John had struck the mill-owner several times on the head with a hammer or "bar of iron," leaving him "completely covered in blood." So perhaps his later claim of self-defense left out a few details.
Decades came and decades went. By the 1970s, the once-"magnificent" Black & Howell building was in sad shape. The deteriorating old building was condemned in 1974.
Although Virginia City residents wanted the historic structure saved, a neighboring landowner complained that the building was leaning, threatening his adjacent property. Finally, pursuant to court order, the old Black & Howell building was demolished over several weeks in March and April, 1988.
Today, if you pay a visit to the site that used to be 37 S. "C" Street, you'll find a deep vacant lot. Could a ghost or two still inhabit what used to be its basement? I'll leave that to your imagination.
But it's worth mentioning at least one odd coincidence: the date that the old building finally came down? It was March/April 1988 — almost exactly 100 years from when Samuel Black breathed his last, May 4, 1888.
_____________
Special thanks to historians Arline Laferry and Steve Frady for their kind help with this story!