This month I put out a call to fellow memoir writers, asking if anyone would like to share a short snippet they're especially proud of from their memoir-in-progress. Such beautiful responses flowed in!
       Margaret McCaffrey of Melbourne, Australia shared not only a beautiful story about her dad, but also tips from her own writing experience.  I hope you'll be inspired by both her beautiful prose and her sage writing advice!
______________________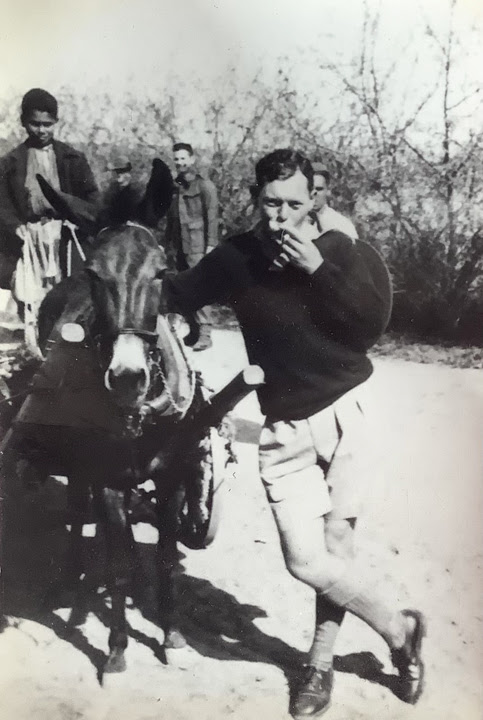 Margaret's Story

:
        If I could live it all again, I would walk into that hospital and hold your hand. I would simply hold your hand. 
       In 1976 I visited my father in a hospital for old soldiers, inching my way towards his bed. He was hard to find in that darkened room, but difficult to miss – if you know what I mean.
       Where are you, Dad? I can't find you.
       The transistor radio sat silently on the stainless steel cabinet beside him. The pink Sporting Globe lay folded to the racing page, where he'd marked the 5/2 favourites with the kind of stubby workman's pencil he used to measure our heights when we were kids.
       He dipped his hand into the red pack of Craven A cork tips to pluck out another cigarette. The knowing black cat on the front of the packet winked ominously at me.
       I'm trying to remember. Which way did he strike the match with all the force of nature? Outwards, away from his face? Or inwards, cupping the flame with his hands? 'Inwards, dear,' my mother tells me. 'Always inwards. Farmers don't want to start a bushfire.' Everybody knows that.
       He should be easy to spot by the permanent glow emanating from his cigarette, which he clutches with all the ferociousness of a baby clasping its mother's finger. At least now, I think, with the cancer yellowing his body, he'll be the same nicotine colour all over.
       How are you, Dad?
       I look around for a chair. I find one in the gloom and place it at an angle. Not at the end of the bed, but not quite beside it either. I'm like a charity worker unfamiliar with her patient.
       Is your mother here? He asks, looking past me.
       No. It's just me, Dad.
       What are you doing? He asks.
       Just having a cigarette, Dad. I hold it up in question.
       Well, you don't have to do everything I do, he replies, turning away from me. Or did he 'tsk' with those once moist lips of his and say: You don't have to copy everything I do?
       I took my shaking cigarette over to the long thin windows overlooking the car park.
Margaret Shares Her Advice:
       Q:  Why did you choose this piece, among all the stories you'd written, to share with us? It's so beautiful! 

       A:  I chose D-Day to profile for you because it tells of the last time I saw my father. The scene became the inciting incident for my memoir. Up until the moment when Dad turned away from me on his deathbed, it hadn't occurred to me – argue and all as we had – that he did not love me.
       Q:  What tip(s) can you give from your writing experience that other writers might find helpful?
       A:  Just keep writing. For many years I'd wanted to write about my ex-serviceman father who'd been a POW in Germany during World War II. I believe that the trauma of war and the imprisonment experienced by many Australian veterans was not acknowledged, and that they were not properly rehabilitated.
            When I began this project it resembled an academic research paper. I'd read medical journals and interviewed many baby boomers about their fathers, and recorded their stories. People asked me why I did not write about myself. Talking about oneself seemed like a foreign country to me. You just didn't do it. Eventually, I discovered ways – with the help of teachers – to insert myself into the narrative, thus allowing me to portray my relationship with Dad. Once I'd begun writing this process, the stories just came tumbling out.
       Q:  Your prose is filled with amazing images that draw the reader in. How did you learn to write so beautifully — does it come naturally for you? And what did it take for you to write this heart-felt scene? 
        A:  Writing does not come naturally to me, although I'm a keen reader. But I wanted this project a lot. So I kept at it. I attended workshops in Australia and enrolled in an MA course in creative writing in the US.
       However, I'm a slow writer, and I go over things a great deal. I put pieces away 'in the drawer,' then bring them out again when the time feels right. This slow form of editing is not for everyone, but it works for me.
       Q:  Ultimately, will you collect your stories into a book? What's your plan for them?
       A:  My stories are intended for a book. At present I'm looking for the right structure to connect the scenes. You could say I 'have the water' and now I need the 'vessel' in which to carry it. Over time, I know a structure will come.
       Ultimately, the memoir is about me – the narrator – finding ways in which he and I loved each other.