If you've ever driven through Gardnerville, Nevada, chances are you've spotted this humble two-story home on the east side of Highway 395. Turns out it's a lot older than it looks. And surprisingly, it wasn't actually built here!
       Back in the early 1900s, this was the ranch house of Bohlman family. It actually sat near Fredericksburg, just north of the Nevada state line on Foothill Road, until the early 1940s. Old-timers tell us the house was moved to its present location by Henry Tiedje, who accomplished the feat using "an old, heavy Army truck rigged with large wheels, a sturdy tongue and heavy timbers."
 
       Today, it's rare to see a house being moved. But house-moving, I was surprised to discover, is hardly a new thing. Homes were being schlepped from one place to another as early as the 1700s. Among early house-mover's tools were simple mechanical devices such as capstans, turnbuckles, and wooden rollers.
       The art of house-moving, of course, came with its own unique set of risks. In 1925, for example, a runaway house in L.A. wreaked havoc when the tow cable snapped, demolishing a motorist's car and forcing its occupants to leap for their lives. (How would you like to see "four rooms with a bath" bearing down on you?!)
       But as for the original history of the Bohlman ranch house before it was moved, nobody seems to know. It's unclear just when it was first built, or by whom.
 
       What we do know is that in the early 1900s, while it sat in Fredericksburg, the home belonged to Fritz Bohlman and his wife, Helene. And there's a fun and romantic story passed down in the family about them!
 
       Fritz Bohlman arrived the United States in 1891 from Hanover, Germany at the age of 20. Helene Kettenburg emigrated (also from Germany) aboard the steamship Kronprinz Wilhelm in 1903, with ten members of the Gansberg family. She was just 18 at the time.
 
       As family members tell it, Helene was supposed to marry a Gansberg once she got here. Somehow, however, she met tall, good-looking Fritz Bohlman. And the rest (as they say) is history. Fritz stole Helene away, and they were married in Sheridan on August 21, 1904.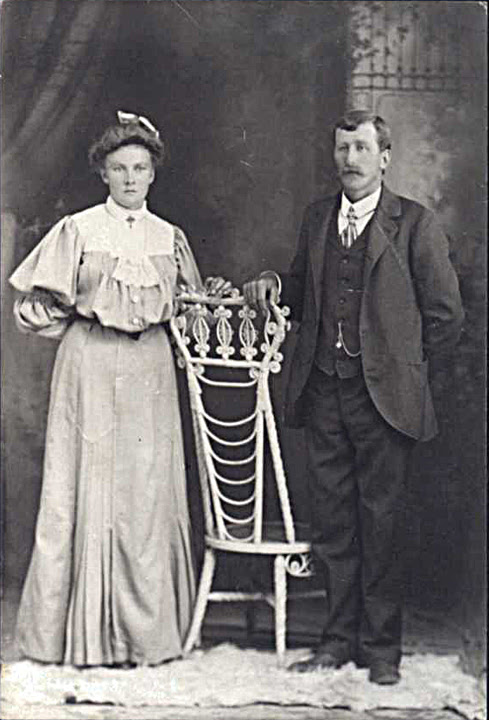 Together, Fritz and Helene had a total of nine children, all probably born right there at home in Fredericksburg, in this house. Their oldest child, Albert, arrived in 1905. Daughter Alvina followed in June, 1907. Fritz (Jr.), Edward, Helena, Gladys, Mabel (who died as a child), and baby August arrived in quick succession. Not surprisingly, German was spoken in the household, so when Alvina first went to school, she depended on older brother Albert to translate for her.
 
       Sadly, Helene died in childbirth in 1920, when August was born. After their mother's death, the two youngest girls, Helena and Gladys, were taken in by a cousin, Heinrich Godecke, and his wife Sophia. Baby August was raised by Anna (Kettenburg) Jacobsen.  But Alvina and her three brothers were old enough to remain on the ranch with their father. At the age of just 13, Alvina took over the duties of running the household.
 
       There's probably a book to be written about what happened to each of the Bohlman children. But there were happy endings for at least two of them!
 
       In 1926, when she was 19, Alvina married William Wilslef and moved to the 400-acre Pettigrew Ranch on the East Fork of the Carson River. There she not only raised her own six children but also cared for her father-in-law, uncle-in-law, and brother-in-law. Severe flooding in 1955 damaged the ranch, and William and Alvina moved to town, purchasing a house on Douglas Avenue. Alvina became a cook for Gardnerville Elementary School. To commemorate the couple's 50th wedding anniversary in 1976, the family donated a stained-glass window to Trinity Lutheran Church. Alvina passed away in December, 1980, at the age of 73.
       Albert Bohlman, the oldest of the Bohlman children, grew up on his father's Fredericksburg ranch. He worked for a few years for Douglas County as a road superintendent, then worked for Minden Creamery making butter and cottage cheese for about 25 years. Albert died in 1980 and is buried at Fredericksburg Cemetery, where parents Fritz and Helene and sister Mabel are also laid to rest.
       And lucky for those of who love history, Albert's son, Dale Bohlman, still lives in Carson Valley, where his warm smile is well-known to practically everyone in town. Dale served cheerfully as the postmaster for Gardnerville for an amazing 26  years, and remains active in the Carson Valley Historical Society today – helping to preserve the history of the beautiful region he loves, and kindly sharing the stories of its people and places – including this story about a very special house.